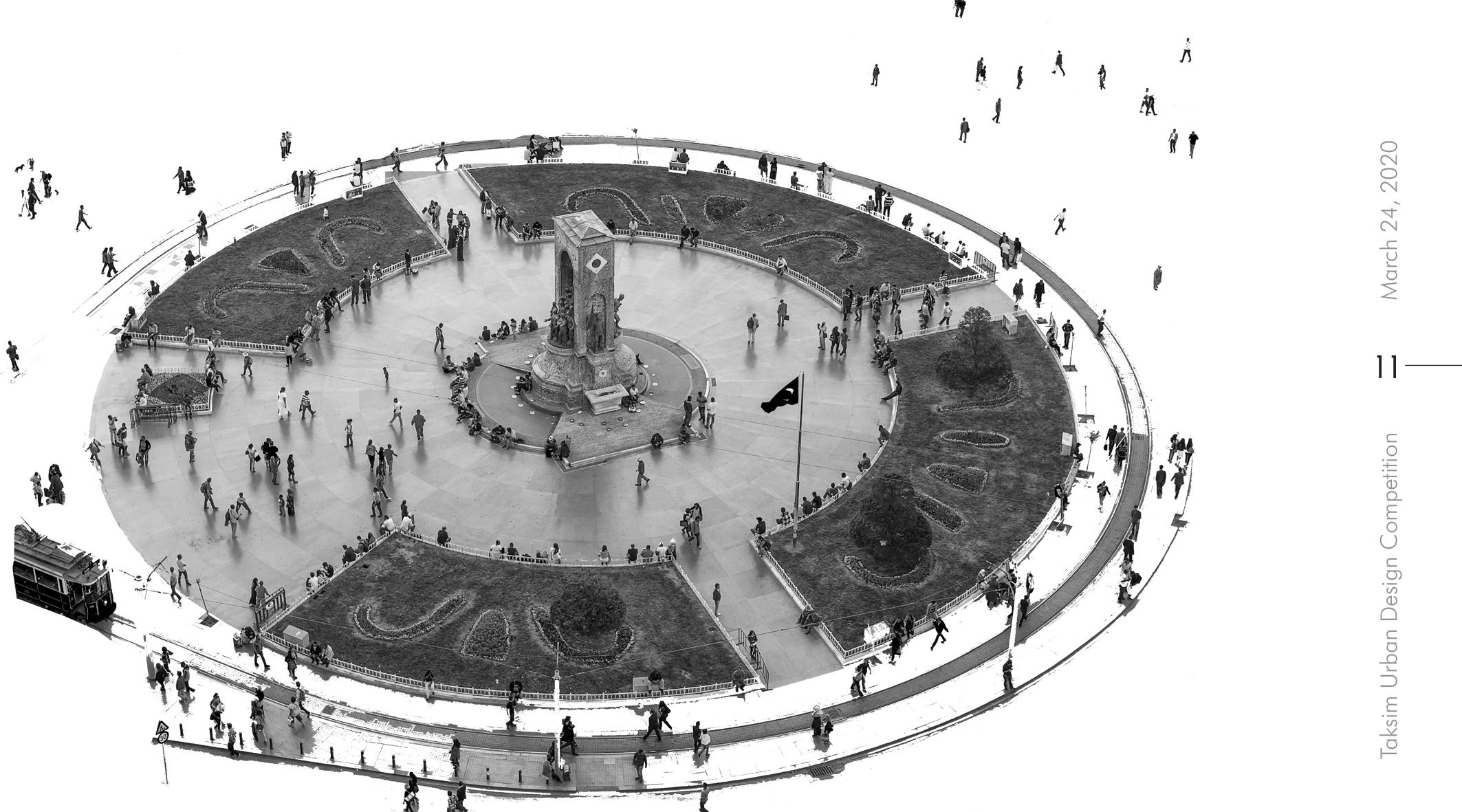 Τυπολογία: αστικό και τοπογραφικό πρότζεκτ
Έτος: 2020
Τοποθεσία: Κωνσταντινούπολη, Τουρκία, πλατεία Ταξίμ
Κατάσταση: διαγωνισμός ανάπλασης της πλατείας Ταξίμ στην Κωνσταντινούπολη
All for Taksim – Taksim for all / Herkes Taksim İçin – Taksim Herkes İçin
Taksim is Istanbul's heart, and together with Gezi Park and its green surroundings it is also the city's lungs. It is a basin for the country's ideas and its memories, the distribution centre for its people's hopes, dreams, sorrow, contentment and joy. Taksim is pulling Istanbul and its dwellers towards it, holding its breath a little before pumping them into the vessels of streets, walkways and tunnels to enliven the city of Istanbul well beyond its borders. As importantly however Taksim is also a place to be, a place to stay. To reflect, to celebrate, to play or to debate. Taksim's life blood are the people of Istanbul, without whom it simply wouldn't exist. It needs its people, their interest and engagement as much as they need Taksim. 
As we suggest in a historic overview and timeline on the following pages, Taksim has always been and must remain in the future an evocative, emancipatory and alive urban setting. In conclusion the aim of our proposal is therefore threefold: To federate the wishes of the people of Istanbul in a democratic design approach which in a rigorous open process will bring about multi-faceted uses of space for a wide range of activities – all for Taksim. To weave together a unifying sense of place, memory and meaning. Everybody is welcome to rest, to linger and meet – Taksim for all. And finally through strengthened connections with its surroundings to further engrain Taksim in the rhythm and circulation of Istanbul.
To provide this unifying experience, to open up vital connections to surrounding elements, but also to create new perspectives we propose a new layer of walkways, platform and bridges which respect and complement the present layout of Gezi Park. They will provide new opportunities to stroll and cross thus connecting seamlessly to adjacent neighbourhoods (1). The westside of Gezi Park (Cumhuriyet Cd.) will be extended and raised. The street side will be equipped with two-storey facade fronts punctuated by two light green tower structures (2) which will provide vistas towards the park and Taksim Square. The new house fronts will have small street-side gardens, left and right of the tower structures. All houses will have terraces as well on the street side as on the park side. The houses will be able to provide a multitude of functions from shops, tea houses to community centres. They will strengthen Gezi Park on its west side while creating a boulevard in a lively urban setting on the street side. The green towers, gardens will provide a continuous flow from park to city and vice versa. To the north of this new boulevard, the former municipal park will be extended as well (3). To the south of the boulevard towards Taksim Square, an "underground park" with cut-open circles to let tree crowns grow into Taksim Square will strengthen the connection with the pedestrian underground transport system. An underground ramp will connect the metro station exit directly with the park (4). This new "underground park" will be a backdrop to a new bazaar building between Şht. Muhtar Bey Cd., Abdülhak Hamit Cd. and Taksim Square (5). At Taksim Square entrance of the Park where there are the main stairs, a Taksim memorial of walls which cut the stairs will be connecting the square and the garden and provide a connection to the green corridor in the north east.  A new structure on this memorial place (6) will be erected. The building has two proposed parallel functions: a museum for the history of Taksim Square and a venue for contemporary arts. Furthermore, a temporary, light structure on Taksim Square (7) will trigger the participatory design process inviting people at the start of the making process of the project with the objective to communicate and  build a number of built structures whose functions are not predefined. The exact number, size as well as uses and functions will be defined by the participating communities. Apart from girding the large square by a green belt of trees and a canopy which will redefine the edge of the square, Taksim Square itself will see no direct major changes as an open space. Rather it will become through the various elements described above, be transformed almost by proxy and woven into the new ensemble: All for Taksim, Taksim For All.